News
The amount of remittances to decline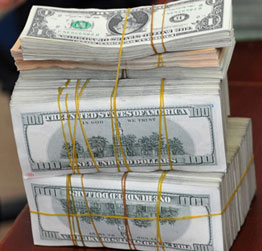 Statistics from the State Bank branches in Vietnam showed that remittances repatriated by the commercial banks and economic institutions in the province in the month 4 / 2011 only reached about 367.6 million, down 19.6% from a month earlier.
World economy facing difficulties, many workers returned to Vietnam ahead of time that the amount of remittances to their relatives to fall is considered the main reason. However, some bankers said, remittances are falling because banks have reduced interest rate of foreign currencies, most only 3%, making the amount of foreign currency into Vietnam savings effect interest rate spread decreased.

Representatives of the State Bank branch in Ho Chi Minh City, said before the Tet remittances transferred through the system for personal commercial banks in the city reached 457.6 million USD. Song of remittances to other countries through local commercial banks scored 2 / 2011 estimate decreased 17.6% compared to January 1 / 2011, due 2 / 2011 has the long holiday period. According to official data of the State Bank branch in Ho Chi Minh City, the amount of remittances through banks all over in 2010 reached more than 4.15 billion USD.

Still, a high-level officials in the banking industry said that the reason remittances reduce the signs in the first quarter due to seasonal. Typically, these expatriates send money to people in the country increased holiday, Tet. Specifically, in the fourth quarter of 2010, remittances sent to more than one third of the total gain of $ 8 billion a year. Therefore, the staff on that capability will increase remittances in the second half of this year.
The bank also plans to significantly increase in remittances this year. Dang Van Thanh, chairman of Sacombank (STB) said in 2010, factoring turnover of remittance payments of $ 1.3 billion. The plan set for this year is 1.5 billion USD in Sacombank remittances.
Remittances also in East Asia Company, director Tran Van Trung, said the sales target for remittance payments in 2011 will increase by 20% compared to 2010.
Earlier, in 2010, sales of payment remittance Remittance Company of East Asia reached 1.2 billion USD, up 20% over 2009. Mr Trung said, the company will continue to expand and develop cross-selling products to support remittances to increase the value of service, increased convenience and maximum benefit for customers to receive remittances.
The Remittance Company of East Asia combined with Money Gram counters deployed DongA - Money Gram first in Vietnam. Chairman and General Director of International Money Gram money transfer, Ms. Pamela H. Patsley also said that the 8 billion dollars in remittances in 2010, Vietnam is also a growing market potential in the money transfer industry with sales of USD 400 billion globally.

As reported remittances and migration resident's global World Bank (WB) announced recently, remittances to Vietnam in 2010 was estimated at more than $ 8 billion up 25.6% over 2009. With nearly 4 million overseas Vietnamese living in 90 countries and territories with thousands of labor export, Vietnam is one of 10 countries with the amount of remittances the largest, with an average increase of 10% / year.
Vietnam currently ranks third row 16/30 in countries with the most remittances and the World Bank also predicts the amount of remittance flows to Vietnam in 2011 increased by 6.2%.
According to Sacombank

Other news :